Mobile DI(Deionized Water) Water Station
We are proud to introduce the MDI-17 Mobile Deionizing Water Station. The MDI-17 offers an extreme convenient and cost-effective water solution.
With a large capacity water tank (25 Litre) that can be filled directly from any tap, and two built-in DI filters, it can be moved quickly to any application that requires water of high purity.
Benefits
Convert tap water into almost ultra-pure water (above 17 Mega Ohms)
Comes with industry standard monitor to give accurate purity levels at point of usage
Buzzer/Red Light to alert user at adjustable set point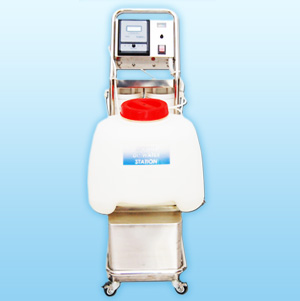 A highly mobile system consisting an autofill tank, two special DI filters and a Myron inline monitor to give the most precise purity reading
Suitable for clean rooms and electronic industries - Laser machines, chillers and frequency drives etc
Optimises your equipment life - your investment is protected because users get the most accurate water parameters
Station comes with a 25 litre tank, a 12V/18AH SLA Maintenance-free Power Storage Batery, a DC 12V / 5A / 2.0L-4.0L/min Pump, Stainless Steel Trolley and ESD Wheels
Usage time can go up to more than 5 hours (cummulative time).